11.10.2021
diptyque, 60 years of magic
Between Senteurs d'Ailleurs and the Diptyque brand, it has been a long engagement. We could almost say a tale of friendship!
A world of exquisite scents for oneself and the home, that celebrates the unprecedented collaboration between the Parisian creator and Brussels' High Perfumery trendsetter, which has lasted more than 20 years.
Thursday, 2 September 2021
Senteurs d'Ailleurs has guests! The sun is lingering in Brussels in the early evening. The air is mild. There are friends, good clients, perfume enthusiasts, the press and the entire Senteurs d'Ailleurs team. Everyone is happy to be together again! Amid the glasses of champagne, alcohol-free cocktails and delicious little 'things' to munch on, a joyful babble muffles the discussions. Because everyone is talking about the same thing: the new diptyque 'Shop in the Shop' at Senteurs d'Ailleurs and the presentation of 'Le Grand Tour' collection.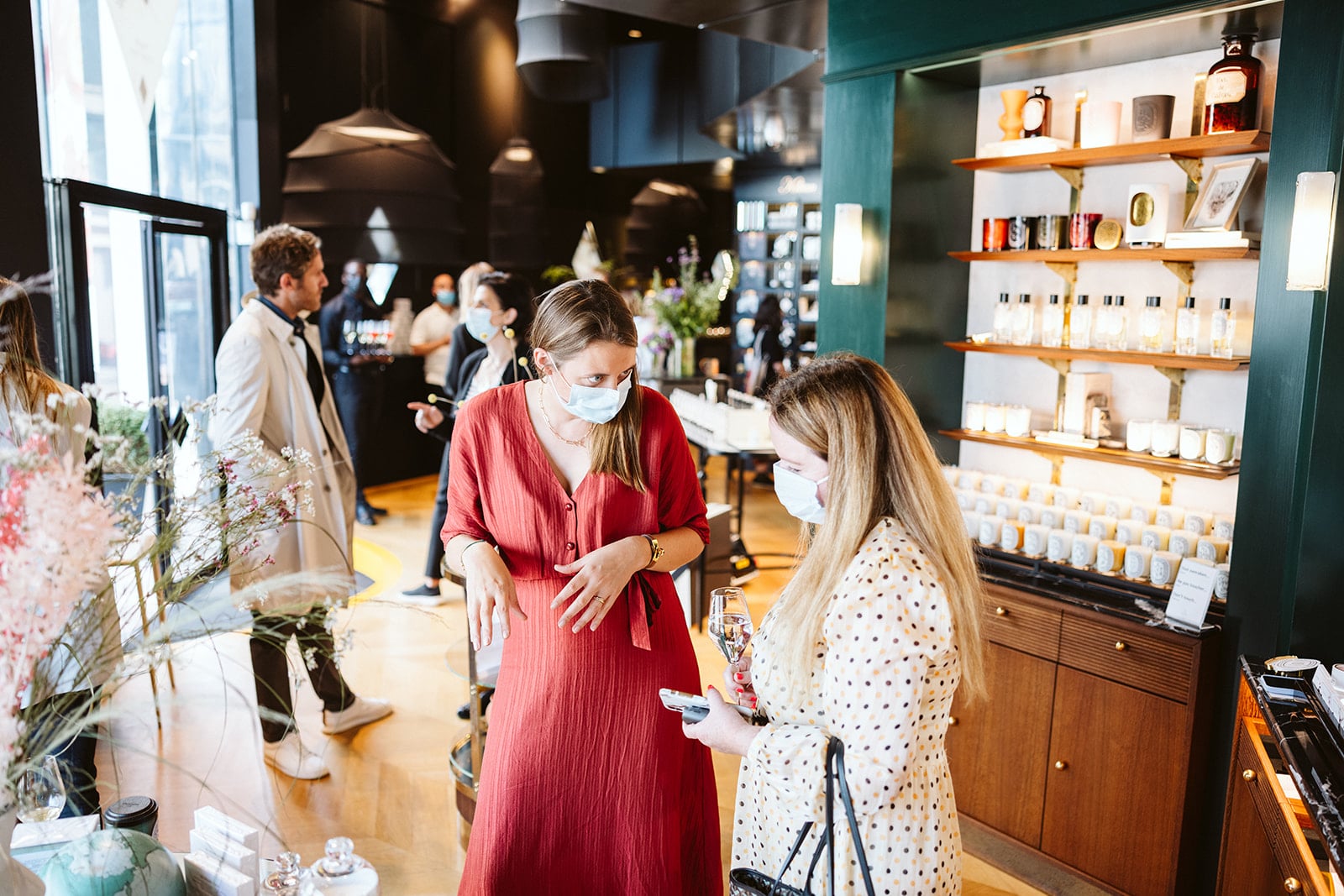 diptyque Shop-in-the-Shop
Since January 2021, Senteurs d'Ailleurs (Perfumerie) is home to a new 'corner' dedicated to the diptyque perfume house. The complete diptyque universe! This is unique in Belgium. Decoration includes lacquered natural wood, black marble, a beautiful piece of metalwork to present an assortment of diptyque candles, perfumes, and care products.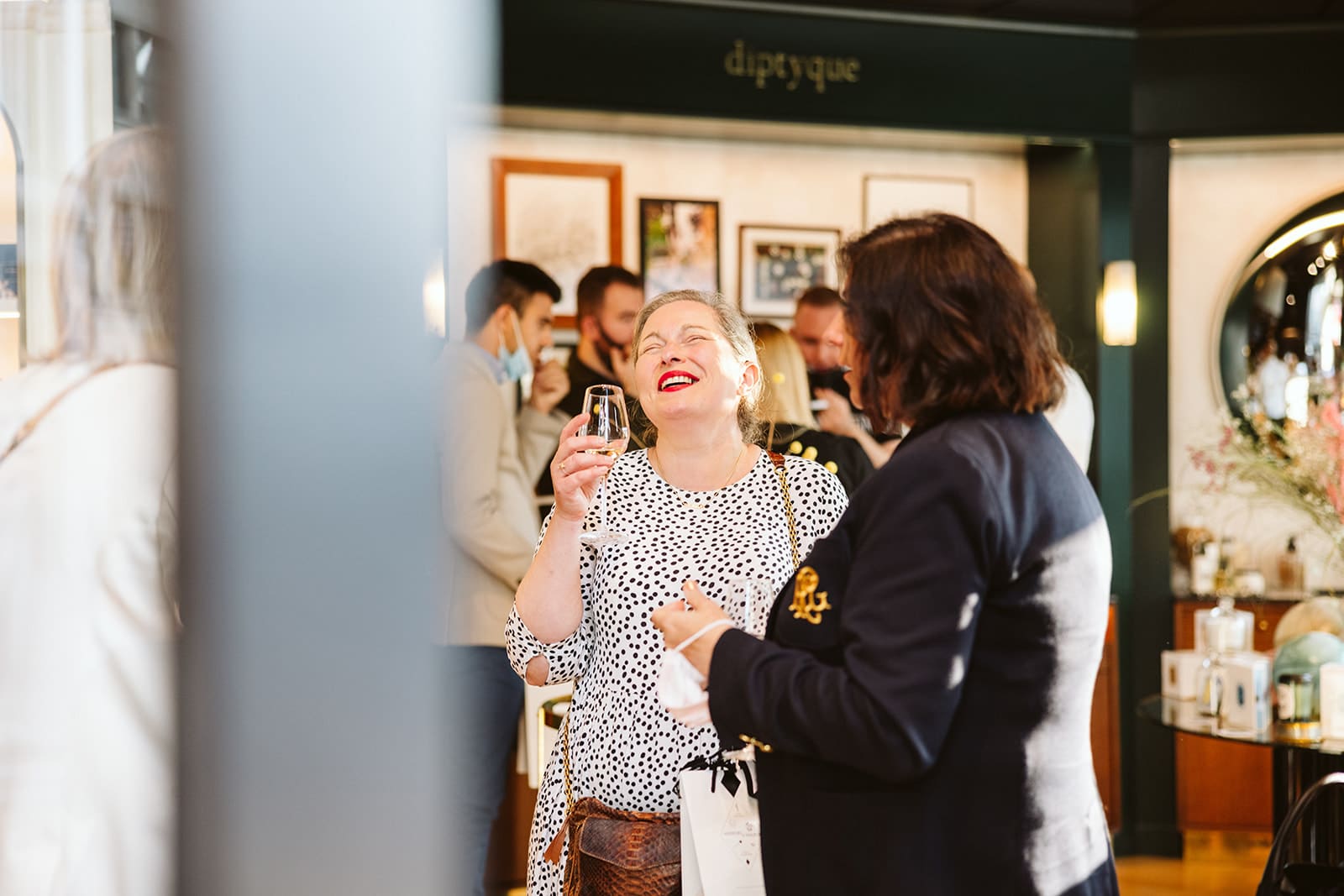 diptyque enthusiasts can discover all the iconic fragrances exclusively at Senteurs D'Ailleurs, as well as limited editions, artists' editions, exclusives such as L'Eau Mage, the Bois Ciré candle, candle holders, and even 'solid perfumes' in pretty little finely chiselled boxes (use your fingertips to place the perfume balm on pulse points to release notes of Philosykos, L'Ombre or any of the other six fragrances available). The whole collection (with the exception of a few in-store exclusives) is also available in the e-shop: senteursdailleurs.com
Le Grand Tour Collection
To celebrate its 60th anniversary, diptyque is taking us on a journey. From the west to the east. Destination: Paris, Venice, Milies (in Greece), Kyoto and Byblos (in Lebanon). Iconic cities, well loved by the creators at Diptyque, come to life in five limited edition perfume creations. Their historical feel and natural environment are sources of inspiration for perfumers and artists alike.
Today, each chosen stopover is once again embodied in an exclusive scented trail: candles, perfumes, and scented ovals, imagined by the brand's creators and divinely 'packaged' for the occasion. It is also an opportunity for diptyque to celebrate what has shaped it since its creation: a taste for elsewhere, art and perfumes, with the 'Voyages Immobiles - Le Grand Tour' exhibition, at the Poste du Louvre, Paris (until 24 October 2021).
60 years of magic
In the beginning, there were three friends, Desmond Knox-Leet, a young English painter, Christiane Gautrot, a graduate in decorative arts and Yves Coueslant, an actor/decorator. After travelling quite extensively, they bought a small decorating shop in Saint-Germain-des-Prés to sell collections of coloured fabrics and unusual objects that they had brought back from their worldwide travels. The boutique was named 'Diptyque' due to the two windows on the street corner. In the midst of this 'bazaar chic', Desmond decided to offer the finest in English perfumery, and then he and his associates started making potpourri and pomander.
In 1963, they marketed their first scented candles: 'Hawthorn', 'Cinnamon' and 'Tea' (the latter was totally new at the time). Quality candles with a high percentage of fragrance concentration: 8–12% of the candle weight (often less than 2% for ordinary candles). The fragrances are composed by perfumers. The first versions were made with labels (black and white) that were hand-glued on glasses bought at the Bazar de l'Hôtel de Ville. These (very handmade) beginnings make you smile when you know that today more than half a million diptyque scented candles are made every year!
At the end of the 1960s, the House launched its first fragrance, 'L'Eau', inspired by a British formula from the 16th century, an astonishing elixir with notes of rose, cinnamon, geranium, clove, and sandalwood. A success! This was followed by 'L'Eau Lente', with Indian spices, and 'Olene', a floral water with wisteria, narcissus, jasmine, and honeysuckle.
Today, the 'little' French luxury brand exports Parisian chic to some 1,200 high-end outlets and 50 own-name boutiques in 45 countries around the world.