19.01.2022
MEET THE TEAM Barbara, Head of Haute Cosmétique
Barbara André talks to us about the essential values in Haute Cosmétique at Senteurs d'Ailleurs. And shares some of her little beauty tips.
About Haute Cosmétique at Senteurs d'Ailleurs
As in perfumery, we seek the best in cosmetics, but also rarity and exclusivity. I would like to emphasise the fact that we offer highly varied care products and protocols that intend to meet the expectations of men and women from very different backgrounds.
It would be wrong to think that Senteurs d'Ailleurs only offers elite, and therefore expensive, brands. Feel free to step into the boutique, we have chosen a range of brands from all corners of the world, Australia, South Korea, Iceland, Italy, the United States, Belgium…
With entirely different philosophies, emblematic brands that represent a certain revival of modern cosmetology, with a wide range of prices. We offer our expertise, our advice and support to maximise the result of care products adapted to your needs. This advisory role is clearly part of the Senteurs d'Ailleurs' DNA, alongside certain essential values in cosmetology.
What are these essential values?
We choose innovating brands that don't hesitate to invest an important part of their budget in research, ethics, and product quality rather than advertising and marketing. Among the essential values are state-of-the-art active ingredients, rare ingredients, concentrations, sustainability, in other words, cosmetics that take care of us but take the planet into consideration.
We also ensure that the performance promises are true from a scientific point of view but also in terms of consumer experience – from chemical cleanliness to the pleasure factor the scents and textures bring. In addition to new, advanced natural technologies, it is important to inform our clients to identify the substance that they want, or don't want to avoid in order to make an informed choice.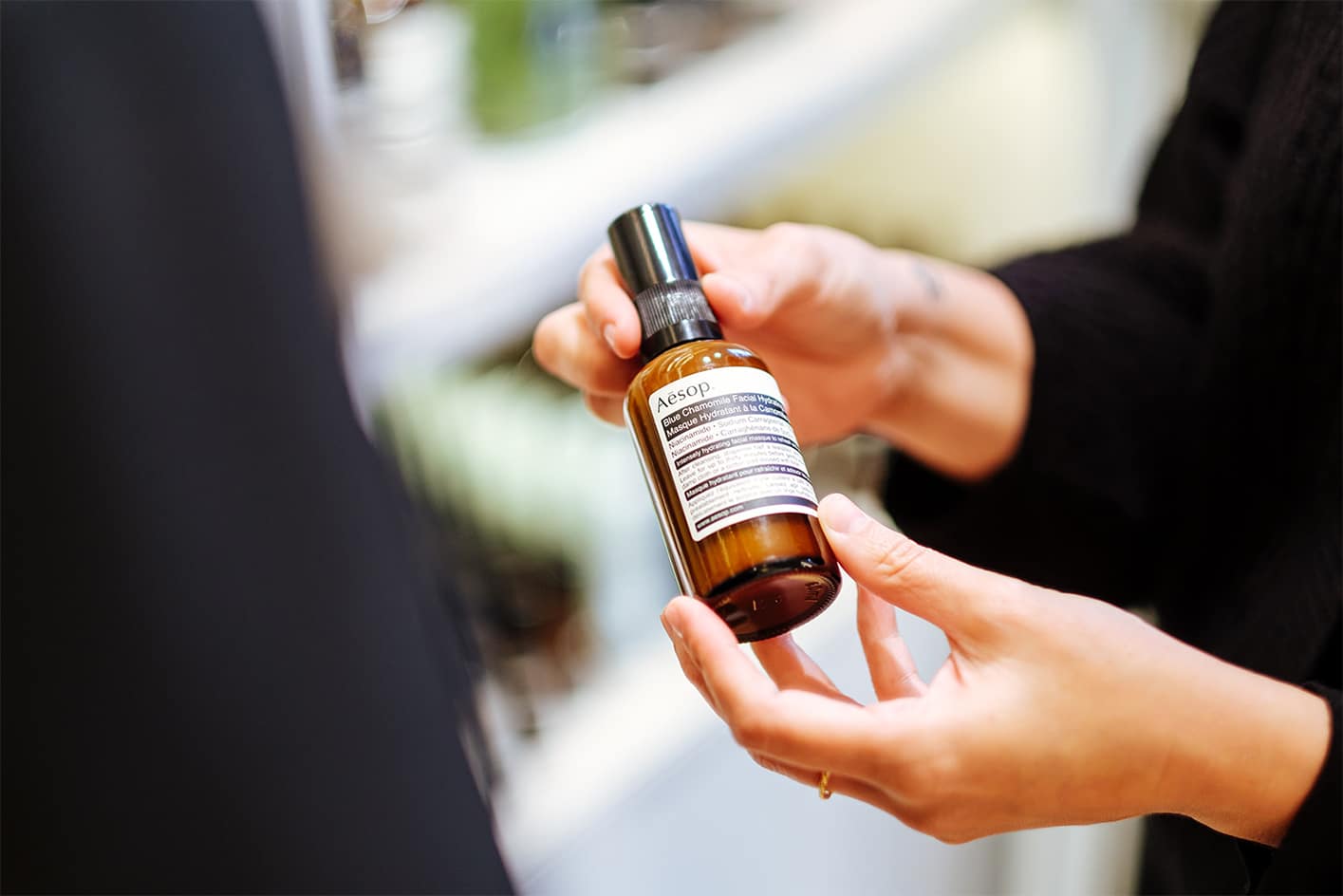 Let's be clear, you don't come to Senteurs d'Ailleurs for 'clean beauty' alone?
Exactly. Even if our range of organic and vegan products is quite extensive, we are not closed to chemically synthesised molecules, provided they are part of quality formulas. 'Chemical' doesn't necessarily mean harmful, toxic, or controversial. And the opposite is also true, 'clean beauty' doesn't automatically equate to quality. It should be noted that many of the synthetic ingredients are derived from natural ingredients that have been reinforced. Cosmetics that do us good, appealing body care and natural fragrances: this is the holistic approach that we showcase!
What are the latest trends in cosmetology?
There is a surge of interest in 'natural beauty', an inevitable consequence of the months of lockdown that have clearly put our skin in the shade. Not to mention that, more than ever, consumers need to have a better knowledge and understanding of the formula of the skincare products they buy, their content, their manufacturing methods, and the sourcing of their raw materials. The trend is also towards personalised care protocols. In this respect, the Biologique Recherche (Paris) brand is exemplary: each skin is unique and must be treated according to a personalised derma-cosmetic diagnosis. This is why there is an extensive range of products (face, body, scalp) based on plant, bio-marine and biotechnological extracts, with a concentration level of around 20%. The star product is the P50 Lotion, an exfoliating, purifying face tonic. Another example: Absolution care products. They are made from organic or wild plant extracts, minerals, and vitamins. Combined with the Mix & Match method, they restore and preserve the skin's ecosystem from day to day. By the way, here we no longer speak of skin 'types' but of skin 'moods'.
Let's talk about you. What is your professional background?
What is your first beauty habit in the morning? I have been working in the cosmetics sector, advising, and selling since 1974. For 35 years, I was a manager in a large perfume store in the European district. Seven years ago, I was recruited by the late Pierre Donie, founder of Senteurs d'Ailleurs, to develop the Haute Cosmétique boutique. My first beauty habit: refresh my face using micellar water (The Cleansing Micellar Water by La Mer; Micellar Cleansing Water by BioEffect). Then you need to rinse your face with cold water. I then apply a mask that I leave on while I have breakfast (Skin Hydrating Mask by Dermalogica; Intense Plumping Mask by Absolution; Detox Face Mask by Malin+Goetz). Finally, I apply a suitable serum and moisturiser (as these two complementary products work in synergy, it is recommended to use the same brand). In the evening, I remove my eye makeup (Soothing Eye Makeup Remover Bi-Phase by Laura Mercier), then clean my face (E.V. Hydrating Cleansing with cellular extracts by Biologique Recherche) followed by Biologique Recherche's P50 V tonic lotion (enriched with vitamins) and a serum and care product suited to my needs on that day.
Which products are always in your handbag?
A face mist that hydrates, refreshes, and detoxifies in a single spray, such as the Damask Rose Petal Mist (Organic Flowers) by Whamisa, a mist based on naturally fermented rose petals (without distilled water) formulated with botanical plant water (lotus, dandelion, chrysanthemum) resulting from low temperature fermentation. It can also be used to set makeup. I also always carry Absolution's Lip Glow (a vegan repairing lip balm) made with macadamia, jojoba and argan oils; a Santa Maria Novella Hand Cream; and a spray bottle of Tacit by Aesop, a fresh and revitalising 'Cologne' with notes of basil, yuzu, and clove … on sale in the Haute Cosmétique boutique.
Your latest favourite?
Biologique Recherche's Crème Masque Vernix, a 'bandage' for the skin that restores the cutaneous microbiome. Inspired by the skin's first protection at birth, this cream mask reproduces the original quasi-composition of vernix, thanks to a selection of active ingredients rich in lipids, proteins, and antioxidant peptides. A revitalising, replenishing and protective care product. And Dermalogica's Daily Microfoliant. This iconic product is an enzymatic scrub made with rice bran, salicylic acid that eliminates dead cells, and papain extracts that work to prevent the appearance of hyperpigmentation spots. The result: smooth, radiant skin!