Goutal Paris
Ile au The - Eau sans Alcool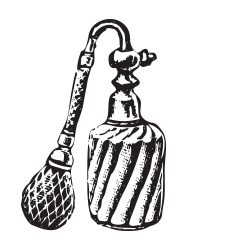 Goutal Paris
Ile au The - Eau sans Alcool
Omschrijving
Inspired by nature and a desire for gentle perfuming, the Maison Goutal has always endeavoured to create wholesome products to meet growing consumer awareness and a desire for beneficial products. Goutal is thus proud to offer loyal wearers of L'Île au Thé a new way to wear fragrance: alcohol-free Water.

Between the sea and volcanoes, the wind sweeps across the Korean island of Jeju. You can almost kiss the sky at the summit of this land of fire and air. The soft green of tea plantations. The sea, a deep, deep blue. The shade of the mandarin trees. The breeze carries their scents, in an ever-changing order, and diffuses a soothing fragrance of well-being throughout the island.
close
Levering
Elke bestelling is uniek en we bereiden ze altijd met veel plezier voor met de grootste zorg. Voor bestellingen boven 150€ in de Benelux brengen wij geen verzendkosten in rekening.
Voor de leveringsvoorwaarden voor andere landen, volg deze link, om de verzendtarieven te kennen. Voor leveringen buiten Europa kunt u contact opnemen met onze e-shop service op het volgende e-mailadres: [email protected]
close
Geschiedenis
De geuren van Goutal weerspiegelen de emoties van de bedenker. De bijzonder verfijnde geuren vallen op door de hoogwaardige grondstoffen die worden gebruikt en door het gevoel dat ze oproepen. De waaier aan Goutal-geuren is representatief voor de waarden van de oprichtster: authenticiteit, emotie, creativiteit en uitmuntendheid.
Het Maison Goutal wil alleen werken met de meest authentieke grondstoffen en met producten die de omgeving respecteren. Daarom wordt in elke stap van de productontwikkeling een milieuvriendelijke aanpak gevolgd.
De vloeistoffen worden niet gekleurd en bevatten alleen onbewerkte grondstoffen. De flesjes zijn al sinds de oprichting van het huis navulbaar en er zijn ook navulverpakkingen voor kaarsen, diffusers en wasgels. Bij de doosjes wordt erop gelet dat er zo weinig mogelijk papier wordt gebruikt. Een ethiek en een bewustzijn die Goutal bij het creëren van producten centraal stelt.
Je bent misschien ook geïnteresseerd in